Dental crowns usually cover or cap a severely damaged tooth. This strengthens the tooth and improves its appearance, alignment, shape, and functioning. Crowns also cover implants to complete your smile after the loss of a tooth. They can also function as a bridge for the replacement of one or more teeth.
Benefits of Dental Crowns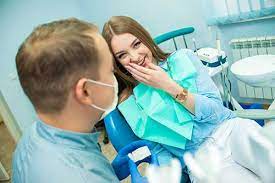 The primary function of crowns is to strengthen, protect, and improve the appearance of a damaged tooth. When used to cover an implant or support a bridge, dental crowns in Columbus Ohio help keep your natural teeth aligned for your best bite.
Your dentist uses a crown when your natural tooth suffers from severe decay damage or experiences a break. In these cases, a filling can't replace enough of the tooth's material to support it through the normal wear and tear of eating. Crowns look like your natural teeth and improve the appearance of your smile. For improvement of your smile, the dentist can use crowns to cover badly discolored or misshapen teeth.
A dental lab makes dental crowns of metal, zirconia, porcelain fused to metal or zirconia, or ceramic. Metal crowns provide the greatest strength for back teeth used in chewing. The type of material your dentist recommends for your crown depends on which tooth needs the crown and whether you grind your teeth.
Crowns usually last between seven to 40 years. You must care for the dental crowns just like you care for your regular teeth. This care involves brushing and flossing.
Preparing Your Tooth for a Dental Crown
When you need a crown, sometimes you also need a root canal treatment on the tooth. Root canal treatment repairs a tooth that suffers a deep cavity reaching the tooth pulp and nerve. The dentist then builds up a foundation to support your tooth when it suffers extensive decay or damage. Sometimes this involves using a post and core foundation after a root canal.
Your dentist files down your tooth to prepare it and make room for the crown. All-metal dental crowns require only minimal material removal in this step because these crowns do not take up as much space as porcelain or ceramic ones.
After preparing your tooth, the dentist gently pushes the gum away from it to make an impression of it in a rubbery material. Or he uses digital technology to create a tooth impression for the lab to craft your crown.
You usually visit the dentist twice for your tooth preparation and crown fitting. Between these visits, you can wear a temporary crown until you receive the permanent one.
Latest Technology for Single-Visit Dental Crowns
Dentists with the modern technology called CEREC can make your crown for you in only one visit. Instead of taking a mold of your tooth for a dental lab, the dentist feeds a 3D image of your tooth into the CEREC unit. A computer crafts your crown from a block of porcelain, allowing the dentist to fit your new tooth cap in the same visit.
Crowns and Other Dental Devices through Your Columbus Dentist
At South High Dental in Columbus, Ohio, your dentist uses CEREC technology to craft beautiful, natural-looking dental crowns. This technology is one part of a high-tech practice providing the most modern dental care methods and services. Dental services of South High Dental also include:
Orthodontics
Crowns and onlays
Oral surgery
CEREC technology
Sleep apnea treatment
IV sedation
Having a dentist you trust is essential for receiving the best care in the greatest comfort, such as when you need dental crowns in Columbus Ohio. Visit South High Dental for this quality dentistry for your whole family. Contact South High Dental now at 614-363-2462 to schedule your first visit.